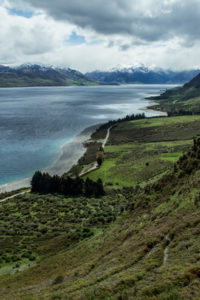 As I start walking up the hill it gets hot. Really hot. Even though my hat blocks the sun rays from hitting my face it burns as if there is a big fire right in front of it. My whole body feels warm, feverish. Maybe it wasn't the best idea to go hiking, maybe my body still needs to rest from the illness.
But my mind is feverish too. I want to go, I'm unable to sit still any longer. I want to go up the entire hill, further on than the last time, when I woke up with a fever halfway up.
The view of lake Hawea is astounding. Just the glacial blue color of the water would be enough reason to hike up here, but with the mountaintops in the background, with a slight dusting of snow on them, makes the steep walk more than worthwhile. Yet I've seen it before. It was cloudy then, big dark gray rain clouds rolling in over the lake, and a strong wind at that.
I try and pace myself, walk as slowly as I can up the hill. If I want to walk further today than last time I will have to spare my energy.
This was my first day of walking from lake Hawea to lake Ohau. The trail starts over Breast hill (1578m), follows the Timaru river up to Mt Martha saddle (1700) and then drops down to Ahuriri river. After crossing the river, it follows the east branch of the Ahuriri river through another mountain pass to lake Ohau.
I had made a try on the trail the week before, but after the first night in Pakituhi hut (which is two thirds of the way up Breast hill) I woke up with a fever. I had been resting in Wanaka for a week before my second try.
The track up Breast hill is very steep, but since I walked it before I managed to pace myself and reached the Pakituhi hut just after noon. On the way I met Nick and Michelle, who acted as model for some of my pictures. After reaching the hut, I still had plenty of energy, so I refilled my water bottle and continued towards Stodys hut over the top of Breast hill. The lake of clouds made fore some good views (and photos) of Mt Aspiring from the top.
Stodys Hut is an old musterers hut, bare more than a shack with dirt floor and a fireplace. It turned out to be crowded though, with a Kiwi group of six, and an American couple staying the night. There were no bunks left for me, so I cuddled up inside my tent after doing some stretches and having dinner.