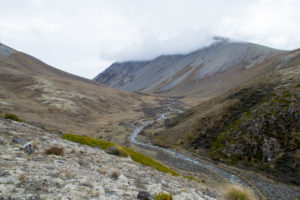 The landscape in front of him was spacious. That was the only word he could come up with to describe it.
Of course, walking in the mountains made you used to big landscapes, with the horizon in the distance and huge valleys and mountaintops in between. But this landscape was so spacious that you could probably fit one of those mountains on the plain in front of him.
There were mountains in the distance, they looked like large hills, but the open plains in front skewed the perspective. Those mountains that looked like large hills were probably around 2000 meters high. The only thing to compare the scale to was the fence he was walking along. However, it continued for so long in a straight line that it disappeared in the distance.
According to the map, he was going to walk some three to four kilometers along that fence. From time to time he stopped and checked his progress. There wasn't any landmarks, so he couldn't be sure how far he progressed. But by using simple trigonometry, eyeballing the angle between two distant objects and himself, he could get a fairly accurate estimation on the map.
Slowly he walked to the end of the fence and up the valley that was going to get him to lake Ohau. Behind him, on the other side of Ahuriri valley a dark mass of clouds was forming and slowly starting to catch up with him. Soon it was going to start to rain.
This was my fourth day of walking from lake Hawea to lake Ohau. The trail starts over Breast hill (1578m), follows the Timaru river up to Mt Martha saddle (1700) and then drops down to Ahuriri river. After crossing the river, it follows the east branch of the Ahuriri river through another mountain pass to lake Ohau.
This day saw me walking up the east branch of Ahuriri. There is no formed path here, but the trail is still marked with occasional red marker poles. Since it's a fairly big valley there is however not much question where to go.
Initially walking was fast and easy, but further up the valley the rocky terrain slowed me down quite a bit. There where also parts covered in tussocks. I'm not too bothered of slipping on wet rocks, but the dead grass from the tussock terrain is bloody dangerous. The small pieces of grass always seems to start rolling under my feet, it doesn't matter how good shoes I have when the ground below starts moving.
The rain eventually caught up. It never rained heavily, but it discouraged me from having my camera out. If you ever decide to buy a camera for adventuring, buy a waterproof one.