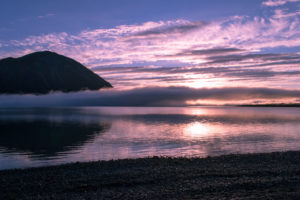 As always it was hard to wake up in a tent. Maybe it was because his body was tired after all the walking, maybe it was stress wearing off now when he was free from the problems of everyday life.
Every day since he started walking it had been like this. His thoughts slow as syrup, his brain feeling like potato mash. Every time he woke he'd go back to sleep before he realized he was awake. Like all days, he wouldn't crawl out of his sleeping bag until the urge to go to the toilet won over the drowsiness.
He crawled out of the tent, stretched out his body, and stopped stunned by what he saw. Immediately he dived back into the tent, fumbling to find his camera. When the sunrise was this gorgeous he wasn't going to miss the opportunity for some good photos.
He started pressing the shutter button and the sound of the camera shutter added to the orchestra of birdsong in the background. Suddenly there was a bank of fog on the other side of the lake. It seemed alive in the way it moved, only it wasn't moving. The fog was simply growing in a way that made it seem like it moved, it looked like it tried to grow limbs.
Eventually the fog extended all the way to his side of the lake. With no visibility it put an effective stop to his photo shoot. That made him quickly remember why he had originally woken up.
Dropping the camera on the ground he ran over to the campground toilets.
After camping in the beech forest on my way down to the lake, I had a lazy day and pitched my tent in a campsite by the lake.  When walking along the lake shore the next day I got a ride into Twizel effectively ending my trip.
Lake Ohau is part of a scheme of hydrodams along the Waitaki river. Ohau is the topmost dam. Twizel was originally built to house the workers building the dam, but now it is a popular tourist destination for cycling and fishing along the dams.
As it turned out, Twizel had some beautiful summer weather (the only place on south island with sun at the time), however, one of my rides back to Wanaka told me they where expecting snow the next day. New Zealand spring weather is truly changeable.
I also got to know there had been some Aurora during the night. Apparently I missed both that and a beautiful star sky.
Will have to buy a tripod to take photos of these nature phenomena too.