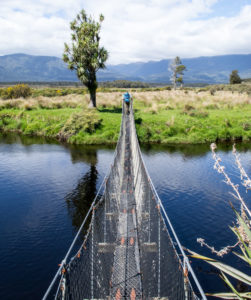 The landscape around him was special somehow. The trees had a distinct shape to them, one stem and a bundle of leaves only at the top. It looked similar to a savanna, or at least what he thought a savanna looked like. The flax growing on the ground next to the trees was typical for New Zealand though, and the damp almost marshy ground was too wet to be a savanna. The dampness was probably the reason for why the trees grew in such a special way.
It was fun to pretend he was in an African savanna though. What if he could see a lion or a giraffe?
Jacob called from up ahead. It looked as if he had found something on the ground. Emil walked over to check it out.
It was a big skeleton from some animal, a cow perhaps. Maybe there was lions around after all.
Emil got a sudden image flowing through his head. The leftover bones from a gnu on the savanna, as the lions walked away in the background. He just had to see if he could replicate the image with his camera. Well, maybe without the lions.
This was the first day of a shorter hike in Haast, following an old kettle track to Paringa. The track was used to move livestock up until the sixties, when the new state highway made it abundant. There are still old logs for bridges over streams and even some logs in the ground to stabilize it.
The Haast forest is a rain forest, so the track has become quite overgrown in places. Continuously changing shapes of rivers and streams also add to the confusion. That the track isn't high on the DOC maintenance list doesn't help.
Both me and Jacob (the Swedish guy I had along for the ride) agreed that a topomap would have been a good idea. Even if it's pretty obvious where the track is, that extra security will make the walking a bit more relaxed. Especially when there's no markers for some two kilometers.
Even without a map we made it to the first hut pretty easy. An axe made for some good woodcutting competition on arrival. The huts need bigger woodburners though, we couldn't burn all the wood we cut.