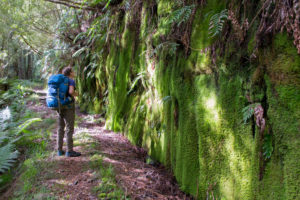 He took another step, and suddenly he was slipping. As if everything was happening in slow motion, he could feel how the knee came way too much forward and started twisting his ankle.
He could only think one thing, shit.
Suddenly he was sprawled on the ground, he had not blacked out, the brain simply did not want to remember the moment when the ankle got twisted.
A soaring pain came up through his right foot. Cold rational thinking replaced all other thoughts. Time for first aid, he thought.
He twisted around on his bum to place the foot upwards in the slope, then he looked at Jacob and told him to get the first aid kit out. The foot quickly got wrapped up tightly to prevent swelling. Interestingly he could not feel anything in the ankle once it was fixed in place.
There was however an abundance of signal substances going through his body after the initial surge of adrenalin. He realized that he probably suffered a light shock. In a cruel twist of irony, that was really good. Whenever he got light shock, he tended to think clearly and make really good decisions.
If he suffered from severe shock though, he would probably lock up completely and panic like everyone else. He intended to not find out.
This was the second day of a shorter hike in Haast, following an old kettle track named Paringa. The track was used to move livestock up until the sixties, when the new state highway made it abundant. There are still old logs for bridges over streams and even some logs in the ground to stabilize it.
After the first day, the track follows on the slope parallel to a ridge. Mostly the track is really good, but in a lot of places it's crossed by slips, places where the ground has slid away in a mudslide. There are also a large number of creeks passing and eroding the track.
It was while negotiating a creek gully (they're about four to six meters high) i slipped and twisted my ankle. Fortunately it wasn't so bad that we needed to call mountain rescue. I managed to limp back to the hut we had stayed in, and the next day we limped back to where the car was parked.
I was super happy to have my Swedish friend Jacob with me. He really helped to motivate me during some total of eight hours of limping. We also got some good cred for the first aid on the ankle. Wrapping tight and placing high initially to prevent swelling, then tape and rewrap more loose for support is apparently exactly the right thing to do. You can of course try and cool down the ankle initially too, to prevent swelling, but in my case the other countermeasures where enough.
Now, back to the problem of what to do when you cannot walk, but you're in the capital of adventure sports. Maybe I should book a flight to Wellington?
Today, almost three months after the accident, my foot is back to almost normal again. I think I strained it a bit too early though, as I've lost a nerve connection going down through the ankle. A small part of my lower foot is now unaware of touch, though heat and pressure stimuli is just fine.
Moral of story. Wait until you're fully repaired until you start doing crazy shit again.