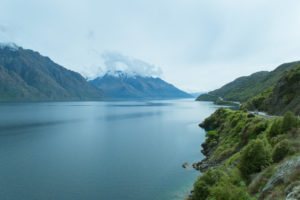 The book had an almost magical attraction to him. He just couldn't let go. Reading while walking wasn't optimal in any way. It made him super slow, and it was probably a bit dangerous too.
It wasn't because it was a particularly good book, it was more the pure joy of reading that entangled him so. It was probably the first time in years that he allowed himself enough time to get fully enveloped in a book. It was a joy he had missed, and now truly could enjoy after craving it for so long.
A hill in front of him looked like it would be a good spot for a break. He walked up to the summit and put down his backpack. There was a light wind up here, chasing away any potential sandflies.
Some ominous clouds in the distance promised rain but for now the sun was shining, so he sat down, leaning against the backpack, and continued to read.
Several hours later, the first raindrops interrupted his reading. When looking up, he discovered that the clouds where now on top of him. A curtain of rain was slowly moving up the lake in the distance.
Quickly shouldering his backpack, he almost ran the last kilometer to the hut where he was supposed to stay the night. Only to discover that the hut was already occupied by three kiwi families. Well tent it is, he thought and pitched his tent by the lakeside. He barely finished pitching the tent and shoving both backpack and himself inside before the rain arrived in force.
The Mavora walkway stretches from the Mavora lakes to lake Wakatipu. After spending an extra day reading I just couldn't put down my book while walking back to my starting point. Eventually I finished it whilst the rain poured down on my tent. In fact, it was raining so much that I decided not to leave the tent at all that evening, and did all my cooking and eating inside.
Eventually the rains died during the night, and the morning gave some calm and somehow washed clean scenery. It was as if the rain had washed away a layer of dust and all the colors could be seen clearer.
My path back along the lake passed the place where Sam almost drowned in Lord of the Rings (or where that scene was filmed). I did not know this, but you can see the resemblance of the place in the photos.
Soon I was hitchiking on my way to lake Wakatipu and Queenstown.