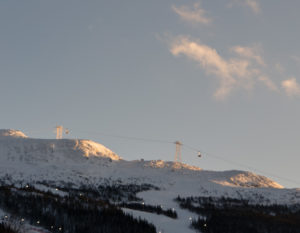 Suddenly a familiar voice shouted his name. He didn't have time to turn around before he was in a friendly embrace.
The guy who had embraced him, Jalle, was quite short but full of energy. He quickly presented one of the other ski guides that Emil had not met before.
"We're doing some off piste skiing, lets go!" Jalle said, and then the three of them where on the move. Up the chairlift and into the forest they went.
A chutelike formation between some trees still had some fresh snow left, that's where they skied down.
"We've found a double drop on a line just beside that one." Jalle exclaimed when they where back out in the groomed run.
When they returned into the forest and came to the drop Emil hesitated. He wasn't too used to do drops. On the other hand he had done bigger ones than this.
"Well, the snow is soft and fluffy all around." He said to himself, then he skied for the drop.
"Poof" The landing was soft. He landed with quite a lot of control and continued down to where the others where. Somehow, he managed to miss the second drop, with the first being so anticlimactic, he wished he had done that too.
"So, I missed the second drop, where is it?" He asked the two ski guides.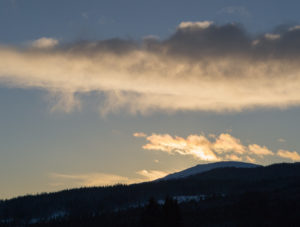 It's good to have friends that push your limits in this way. I personally want to go more off piste, and do more drops. Since I'm working as a ski instructor I'm super comfortable in the groomed runs, but getting out there on the really big mountains is a challenge in its own.
It's hard to motivate yourself on your own though. Pushing hard like this is both fun and a learning experience, but I think you need friends who are more skilled than you to do it.
This is also something I do as a ski instructor, sometimes a customer might not have skied intermediate runs, so I take them to intermediate runs. We can go slowly down, with me skiing just ahead of them as an extra security. Afterwards the easy runs will feel super easy, simply because of a confidence boost.
My point is, that improving on you skills might sometimes not involve a lot of study or training, but rather just to try something much harder and push your limits a little.