The wind gusts were tugging strongly at the skis strapped to his backpack. He wasn't going to fall because of the wind, but it made the ascent a bit more tricky. To his left one of his companions had started walking on an area with less snow. He made for the same area as well. The deeper powder wasn't hard walking in, but it was always a good idea to try and save the leg for the downhill later.
He stopped to take a breath, walking uphill would still make you breath hard. Further ahead both of his companions had stopped to take the skis of their backpacks. All in all there were four of them, two guys named Axel. That was the two that had stopped just ahead. He, Emil, and behind him was another guy called Marcus.
Eventually they all had their skis back on and were ready for the downhill. Axel and Axel went ahead into the snowy forest with shouts of joy. Emil stopped for a moment, he looked over at Marcus. He could see the same kid of thrilled excitement in Markus that he felt himself.
"Wow, this is steep." they both said, overlapping each others words.
To distract himself from the steepness Emil took out his mobile phone and snapped some pictures of Marcus.
Then, they too, went into the forest.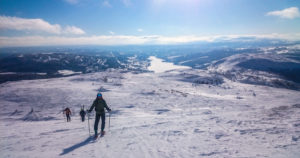 This was by far the best day of the season (so far). The amount of snow hasn't been optimal, but two weeks ago it started dumping. Because of wind, already made tracks has been swept away, and as long as you new where to look it is possible to find fresh powder.
It's not free however, we did one run where we had to walk for some 20 minutes with climbing skins on our skis, and then this run where we strapped the skis to our backpacks for 10 minutes. We also found some shorter runs by going alongside the mountain for a bit.
A lot of the runs where quite steep. Adding the trees, I wasn't fully able to link my turns. It didn't give me the "flowing motion" you usually want when skiing and because of this I also got tired in my legs quite fast.
It was a fun day nonetheless, and I was super happy to ski in some challenging terrain with my telemark skis.