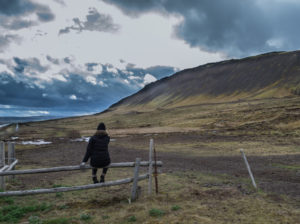 Ahead is a big open plain, with some slowly rolling hills. The landscape is mostly rocks that are covered in moss and tussock. Scattered over the plains are some bigger rocks, they look like trolls, standing silently and watching the landscape. In fact, some of the rocks have probably been placed there by humans, in the ancient times when they where needed for navigation.
Far in the distance snow covered mountains and big black clouds loom. I'm itching to use my camera, although I don't think I can capture the awesomeness of the scenery.
The fact that I'm driving a car, and the fact that there's three other people in it that I have to take into account discourages me from using my camera, for now. Most likely we all want to stop soon, to take as many pictures as possible with cameras, iphones, ipads and god knows what.
I'm in Iceland on family holiday, and I'm enjoying the whole family holiday thing more than I anticipated.
The whole trip started this winter when my sister decided to give me a trip to Iceland. I gave her a trip to Japan a couple of years back, so now it was her turn to give me a trip. Our parents have always talked about going to Iceland themselves, so they decided to go with us.
A family trip for me entails rigorous reading of Lonely Planet and whatever travel guide you can get your hands on before the trip. Creating a list of activities to do when during our one week stay, and booking accommodation and any other activities that need a reservation. Our family is quite outdoorsy, so the list of activities tends to include a lot of day hiking as well as generally just walking around and looking at things. I imagine this is the typical routine for any family going on a trip abroad, give or take a few 10km hikes.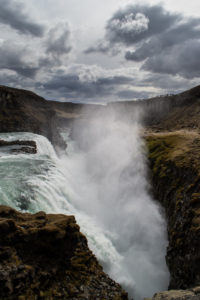 So here I am, driving our rental car to our first stop on the first day, Þingvellir. It's a place where the vikings used to meet for democratic meetings (they were vikings, so some of those meetings ended in brutal murder).
Þingvellir is part of what is called "The golden circle", which also includes Geysir and Gullfoss. The later is one of Icelands largest waterfalls, while Geysir is the place that has given name to the nature phenomena called geyser (if you don't know what a geyser is, go look it up on wikipedia right now, I promise it's cool).
All of these places are very touristy indeed. Which is proven when, at Gullfoss, two British girls walks up to us asking if we can take a picture of them both together. They both have at least three cameras each (including a GoPro, DSLR and a mobile phone with the protective packaging plastic still on the camera lens). Of course, my mum asks her share of other tourists to take group photos of our family.
While I'm not to fond of stand together awkwardly family photos, I'm actually enjoying the touristing a lot. After a while I start taking photos of pretty much everything. Eventually, while adjusting my camera focus at a geyser, a big warm water plume shoots up from the ground and rains down on me. My family, standing on the other side of the plume, laughs and points at me. I laugh with them as they join me to get washed over by the next geyser eruption.